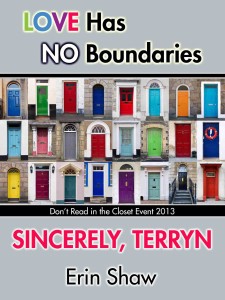 PHOTO DESCRIPTION:
A beautiful man stands in front of a stove stirring French fries in a pan, trying to impress the man of his dreams with his cooking skills. Dressed only in boxers and an apron, he's hoping dinner won't be the only thing his man finds impressive.

STORY LETTER:
Dear Author/Leprechaun of Love,
Who is he cooking for? And why is he only making French fries?
It would be interesting if he lived in Hollywood, but anywhere is fine.
Sincerely,
Spencer

STORY INFO:
Genre: contemporary
Tags: cop, first love, hurt/comfort, love at first sight, men with pets, sweet no sex
Word count: 7,353
Sincerely, Terryn on Goodreads

PDF | Mobi | ePub
Review Sincerely, Terryn on Goodreads