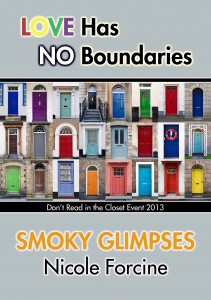 PHOTO DESCRIPTION:
Eight hunky, half-dressed firemen of assorted nationalities and hair color stand in a parking lot, all looking up at the camera, which is obviously positioned at an elevation well above the group. It looks like the cover for a sexy firefighter calendar, with an attractive bald fireman in the front middle spot. The caption reads "Please excuse me while I light my house on fire."
STORY LETTER:
Dear Author,
The setup for this scene is a firemen calendar shoot. The photographer knocks on the main character's apartment door to request shooting some photos from the apartment balcony. The MC follows the photographer out to the balcony and sees the following:
I'm pretty open to whatever the author wants to do with the story beyond the setup. (This doesn't have to be the beginning of the story. It can be later on in the story. That was just the setup for this image.)
I would really like for it to be a paranormal story. (Pick your paranormal element.) And you can take your pick of the firemen as the other MC. 
It does not have to be HEA.
Sincerely,
Adara

STORY INFO:
Genre: contemporary, paranormal
Tags: firemen, sweet, psychic ability, humorous
Word count: 7,549

AUTHOR INTREPRETATION:
When I looked at this photo, the first thing I thought was, well, exactly what the caption said— "Excuse me while I set my house on fire" because RAWR. Once I'd calmed down, I had to pick my guy and you know what? Not enough love for dudes with shaved heads. Or blue collar psychics for that matter, so Smoky Glimpses was born.
Smoky Glimpses on Goodreads

PDF | Mobi | ePub
Review Smoky Glimpses on Goodreads