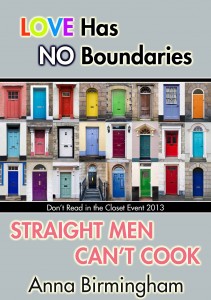 PHOTO DESCRIPTION:
A cute twenty-something guy with damp blond hair chops vegetables in his kitchen. His only clothing is a towel wrapped around his middle.
STORY LETTER:
Dear Author,
I'm running out of time to prepare something delicious, errr… edible for my date. I mean, friend. I mean… Okay, okay, I had a bet with a friend, whom I've been infatuated with since… forever! We've been roommates in college. He's an out and proud and smart gay guy. But not so smart since he never figured out my secret or that I've been lusting after him all those time we've been roomies.
Anyway, we haven't seen each other since college days and yesterday I bumped into him at the supermarket. I was there helping my pregnant neighbor with groceries and he with his own list to buy. He just moved a few blocks down from my place. We talked while queuing to pay, and I don't know how he turned up challenging me to prove that straight men can cook. It just did. I'm not straight. And I can't cook. And why the hell did I have to prove anything to him?
Please help me out with this. And if you can somehow make him eat his words, or eat me, I would be delighted!
Sincerely,
Didi
STORY INFO:
Genre: contemporary
Tags: college graduates, light hearted, in the closet, secret crush, friends to lovers, clueless male, shameless use of pop culture references
Word count: 9,441
Straight Men Can't Cook on Goodreads

PDF | Mobi | ePub
Review Straight Men Can't Cook on Goodreads