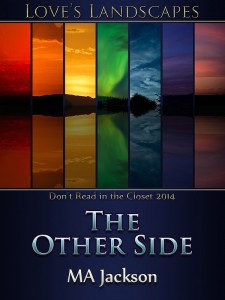 PHOTO DESCRIPTION:
A cropped shot focusing in on two men with their hands clasped together.
STORY LETTER:
Dear Author,
Could you please write a story about two young high school boys who fall in love. Only one of the boys is out to the whole school and the other is just figuring out who he really is. I would love the story to be based on the song "The Other Side" by Jason Derulo. Here are the lyrics.
Thank you for the consideration!!
Tracy
STORY INFO:
Genre: contemporary
Tags: high school, barely legal, coming out, first time, public sex, mechanic, family wedding, military family
Word Count: 15,230
Author's Note
To the M/M romance group mods, CC, Elaine, Astrid and everyone else that helped to make this the best story it could be; my heartfelt thanks and gratitude are given freely and without end. Tracy, I hope you truly enjoy the tale I've spun for you.
EVENT: Love's Landscapes
The Other Side on Goodreads
ePub | Mobi | PDF
Review The Other Side on Goodreads