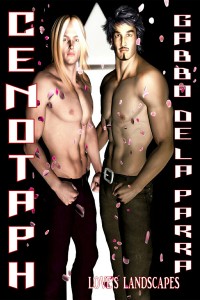 PHOTO DESCRIPTION:
Anime-style drawing of two men. One, dark-haired, lies on the floor with his semiautomatic trained on the chest of the blond-haired one who looms over him. The blond has a really large sword ready to pierce his adversary's chest. The frozen image debates between black and white and sepia; it speaks not of hesitation but of controlled fury. Both their gazes scream things that cannot be spoken.
STORY LETTER:
Dear Author,
Consider this particular moment, an intense expression of love-hate, the joy of a fight, violence, and yet also something stopping us from outright killing each other; a connection, a passion, admiration, respect, love, a past, a future? How did we get to this moment? Were we friends before a betrayal? Or enemies who despite a connection were destined to fight on opposite teams? Or was it something much more complex? Is this where it ends or is it just the beginning? Things do tend to get confusing when time traveling.
Who are we, whether we live in an alternate, sci-fi, dystopian, or contemporary reality (just no fantasy, paranormal, supernatural, magic, etc.), what we look like (bonus points for at least one being an ethnic minority), and our personalities are completely up to you. At its core, our story revolves around this particular moment where we aren't sure whether we want to murder or shag each other (or both); a moment of elation and joy of fight that only comes from dark pasts, a life where there is a blurred line between passion and violence.
Graphic sex is not necessary but very welcome (no BDSM but they can fight it out to determine who gets to top). HFN is fine but not necessary (no HEA, please). Author, get in touch with your darkly violent passionate time traveling side and have fun.
Sincerely,
Alicja
STORY INFO:
Genre: science fiction/near future
Tags: enemies to lovers, time travel, spies/secret agents, interracial, switch/versatile, reunited
Content Warnings: no HEA/HFN
Word Count: 18,567
EVENT: Love's Landscapes
Cenotaph on Goodreads
ePub | Mobi | PDF
Review Cenotaph on Goodreads