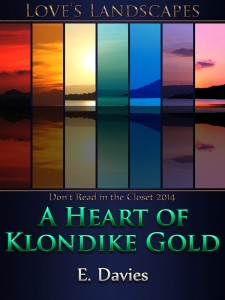 PHOTO DESCRIPTION:
Two bearded men, one in a knitted cap and the other in an insulated undershirt, hold each other in bed. They look like they are about to kiss.
STORY LETTER: 
Dear Author,

These two men traveled to the Klondike during the Alaskan Gold Rush in hopes of striking gold. What they found… was each other. Please tell me their story.
Please include the scene depicted in this photo at some point in the story.
No insta-love, cheating, or ménage and must have a HEA. I would really like to see enemies to lovers here but not required… and lots of sexual tension is preferred.

Sincerely,

Heather C
STORY INFO:
Genre: historical
Tags: blue collar, miners, store owner, enemies to lovers, slow burn, Klondike
Word Count: 18,667
EVENT: Love's Landscapes
A Heart of Klondike Gold on Goodreads
ePub | Mobi | PDF
Review A Heart of Klondike Gold on Goodreads