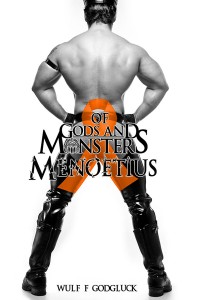 PHOTO DESCRIPTION:
The photo shows a young man with thick, dark hair pinned on a bed, hands clasped above his head by the man on top of him. The other man's circumcised cock is on offer, barely touching the young man's nose. The young man's tongue is placed directly against the other man's cock. There is a power exchange but also something else. The man beneath him is daring, teasing his cock— but look closer. Their hands tell an entirely different story. Their fingers are knotted together in a connection deep, powerful and strong. There is love here, with a passion and a playfulness that can only be understood between them.
This is their story.
STORY LETTER:
Dear Author,
He calls me "Master", but I'm the one who's really a slave to his heart. I'm supposed to be strong, but I feel so weak every time I think about how we almost didn't have this… how close I came to losing him… my precious boy.
I'd prefer contemporary, but take it away from there!
Sincerely,
Wendy (wluvsbooks)
STORY INFO:
Genre: contemporary
Tags: dark, businessmen, BDSM, SOB-alpha males, hurt/comfort, illness/disease, angst, tearjerker
Content Warnings: dubious consent, past child abuse and rape, swearing
Word Count: 80,592
Acknowledgements
A dedication of thanks
For my betas:
Debbie Smith – who I just happened to stumble onto on Facebook. Babe, it was meant to be!
Alicia Mattson – for wanting to hit me over the head so many times for stupid silly mistakes.
Sanet Nel – the nights, the emotions, the promises of chocolate fudge and wine.
I couldn't have asked for a better beta group. How I will ever thank you enough I will never know. Without you all, I'd be left in the dark with a small flame struggling against the chaos. Some of you sat up until the wee hours of the night working through my unreadable ramblings. THANK YOU! You guys are epic!
For my husband. Thanks for being patient with me and all that other jazz, Sir. Oh yeah, and thanks for the cover photo, too!
To Gabriel Goldberg – for permission to use said photograph, thank you.
And to Sir Daddy Jim – Thank you.
For the moderators of the M/M romance group for holding the Don't Read In The Closet event – Thank you. You guys are epic.
For my editor Alishea – thank you for not wanting to backhand me, being patient, and being just freaking awesome!
About the Title
Menoetius: The "doomed might", deriving from the Ancient Greek words menos (might, power) and oitos (doom, pain). Menoetius was the Titan god of violent anger, rash action, and human mortality. Hesiod described him as hubristic, meaning exceedingly prideful and impetuous to the very end.
Menoetius also means "hubris", which often indicates a loss of contact with reality and an overestimation of one's own competence, accomplishments or capabilities— especially when the person exhibiting it is in a position of power.
EVENT: Love's Landscapes
Of Gods and Monsters: Menoetius on Goodreads (NSFW)
ePub | Mobi | PDF
Review Of Gods and Monsters: Menoetius on Goodreads