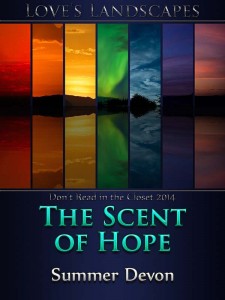 PHOTO DESCRIPTION:
A man in his early twenties looks scruffy in a bloodstained shirt covered by a dusty leather coat. His handsome face wears a slight smirk, which is odd, considering the very large noose around his neck.
STORY LETTER:
Dear Author,
I am getting really tired of the waiting. No one told me that waiting to die would be quite this boring. So to pass the time, I wrote a letter to my sister, but somehow my letter got to the wrong person. Who do I end up writing? Did I really commit the murder I will hang for? Can whoever my mysterious pen pal is get me out of the mess?
Fantasy or pseudo-regency preferred, where same sex relationships are normal, no PWP,
HEA or HFN ending please.
Sincerely,
Xelly
STORY INFO:
Genre: historical
Tags: condemned man, Victorian era, prison, rescue, businessman, prisoner, HFN
Word Count: 11,237
EVENT: Love's Landscapes
The Scent of Hope on Goodreads
ePub | Mobi | PDF
Review The Scent of Hope on Goodreads