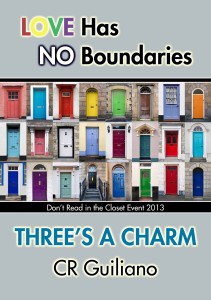 PHOTO DESCRIPTION:
Three Asian men are shirtless and intertwined with hands lovingly touching, connecting them intimately— in love with each other. The men are thin, delicate and beautiful, with exotic looks and breathtaking features.
STORY LETTER:
Dear Author,
The three of us have been best friends since forever. We were always outsiders, but that didn't matter— we had each other. After we graduated from high school, we all moved in together and all the pent-up feelings between us just erupted and we became so much more than just friends. So much more! The sex was beyond hot, but that was only part of it. The most important part was our love for each other.
We became like one person, our hearts beat in tune with each other. But lately, I've felt one of my lovers moving away. I don't understand. He says he still loves us just the same, but it's like he's slipping through our fingers. Is he jealous? He's never seemed to be before… Has he met someone else? Is he just tired of us? One of us or both of us? I wish he would tell us, because my heart is breaking…
****
Please, no BDSM, non-con or dub-con! I don't think that the mood in this picture would inspire to that, but I'd like to add that anyway.
And I do like stories that contain explicit sex scenes, though I also realize that my prompt might inspire an author to a more romantic kind of story. But if possible, please include some sex! 😉
Sincerely,
Asynia
STORY INFO:
Genre: contemporary
Tags: ménage, Asian, erotic, martial arts
Content warnings: sexual extortion by a secondary character
Word count: 7,700
Three's A Charm on Goodreads

PDF | Mobi | ePub
Review Three's A Charm on Goodreads