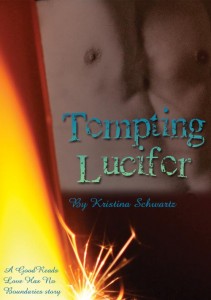 PHOTO DESCRIPTION:
A youthful man of indeterminable age lounges on a brocade-patterned chair, a look of disinterested haughtiness written across his face. His eyes, black as the starless night sky and rimmed in heavy black kohl seem to bore into yours, and resting on his head is a crown made of blackened horns, barnacles and spiral seashells. His smooth, bare chest glistens in the shifting light, beckoning your touch, but his air of arrogance stills your hand.
STORY LETTER:
Dear Author,
Isn't he something? All arrogant and so not in my league. I wish I felt comfortable saying something other than "Yes, Sire" to him. Wish I could find it in me to use the spine I'm sure I have, somewhere, and just talk to him when I find myself alone with him; however, as one of the demon prince's servants, I'm expected to be silent and obedient.
Sometimes though, I catch him looking at me out of the corner of my eye, and instead of the sulky, brooding looks he shows the rest of Hell, he has started giving me this subtly flirty smile whenever he orders me to do something, as though he's planning something.
Anything goes, though I'd like to see a HEA or HFN ending; otherwise, let me see what you've got.
Sincerely,
Lacie J
STORY INFO:
Genre: paranormal
Tags: angels/demons/gods, hot ass demon prince, hot ass fallen angel, jealousy, possessiveness, HFN, rough sex, dirty talk, orgasm denial
Word count: 13,858
Acknowledgements:
Thank you: A very special thank you to Brittany Thompson, without whom I'd still be stuck in the planning stages of this story. She offered vital suggestions and asked questions I hadn't thought of that helped propel this story along, and I'm very grateful for her help. Also, thank you to Mary Pedevillano for her encouragement and giving it the final read through.
Tempting Lucifer on Goodreads

PDF | Mobi | ePub
Review Tempting Lucifer on Goodreads