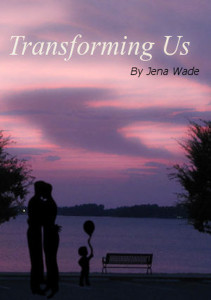 PHOTO DESCRIPTION:
Dark-haired man sitting on top of a child's dresser with a picture of a Transformer on it, wearing only a red pair of briefs, holding a child's toy, with his head thrown back in laughter.
STORY LETTER:
Dear Author,
*sigh* Is he the best dad ever, or is he the Best Dad Ever!
I was so afraid of him the first time I agreed to babysit for him-he's very intimidating with his permanent five o'clock shadow, his gruff exterior, his buttoned- up business suits. Then I saw him with Bug.
But I showed up early to babysit Bug today, and found this. This! I remember walking in on him painting that dresser— seriously, how does someone get paint on their back?
He lives for Bug, and I don't want to do anything to change that, but how can I convince him that he deserves to have someone be there for him too?
Sincerely,
Babysitting Bug for the Babe (cturtlechick)

STORY INFO:
Genre: contemporary
Tags: single father, men with children, sweet no sex, HFN
Word count: 6,538
Transforming Us on Goodreads

PDF | Mobi | ePub
Review Transforming Us on Goodreads