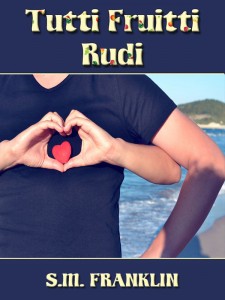 PHOTO DESCRIPTION:
Black and white gif: Two half-naked young guys rubbing against each other on the bed hopefully leading to frottage.
STORY LETTER:
Dear Author,

These two were out on the dance floor grinding and groping, touching each other everywhere until the tension got to be overwhelming. Now that they're finally alone, the passion between them is ratcheted so high, they can't spare a moment to get properly undressed.
* I'd really love a hot, tension-filled dance scene and for release from frottage to be incorporated with the gif. The rest is up to you, dear author.

Sincerely,

Jilly
STORY INFO:
Genre: contemporary
Tags: sex industry, masturbation, frottage, public activity
Content Warnings: dubious consent, child abuse, drug use
Word Count: 61,929
Dedication
For my Mark!

Maria Wright, and to whoever takes the time to read this. Whether it's just one person or a thousand… I thank you. It means a lot.
EVENT: Love's Landscapes
Tutti Fruitti Rudi on Goodreads (NSFW)
ePub | Mobi | PDF
Review Tutti Fruitti Rudi on Goodreads