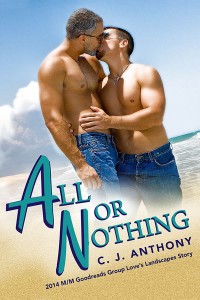 PHOTO DESCRIPTION:
The photo is a typical candid shot of two men posing for a camera, in a darkened room, perhaps at a party or a bar. They are shirtless, showing off well-maintained "bear"-style physiques— ripped muscles and hairy chests, and faces with stubble. One man is younger, with short dark-brown hair, and the other man is older, with slightly graying hair and stubble. They are both leaning into each other, heads touching. The younger man has his arm around the older man's waist, and the older man has his arm around shoulders of the younger man.
STORY LETTER:
Dear Author,
Look at us. You'd never believe what it took to get us to this moment. I'm older than he is and it just was a HUGE stumbling block. Add in that I'm successful and established and this cub is just getting started, and well, I didn't give him a chance. I didn't believe he was ready to commit, thought it was a temporary thing for him. He's a persistent thing though, and was looking for love. Tell the story of how we got here, together, happy and secure.
Please no rape, cheating or ménage. We need that HEA!
Sincerely,
Kevin
STORY INFO:
Genre: contemporary
Tags: age gap, bears, businessman, college, friends to lovers, massage therapist, over age 40, slow romance
Word Count: 24,388
EVENT: Love's Landscapes
All or Nothing on Goodreads
ePub | Mobi | PDF
Review All or Nothing on Goodreads