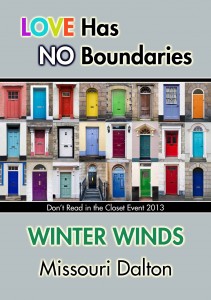 PHOTO DESCRIPTION:
A young man with impossibly blue eyes stares out at the viewer. It's the eyes that have it, because this man cannot hear, a disability gained only after he was turned— into a vampire. It's going to take one hell of a man to bring out the master vampire within.
STORY LETTER:
Dear Author,
Forever young.
Forever beautiful.
Forever outcast.
Forever lonely.
Life as a deaf vampire is hard. It's seen as a flaw.
Being deaf is viewed as a weakness. They're foolish to underestimate me. Like Rudolph, I was never invited to play in any vampire games.
Then one foggy winter's night, everything changed.
My beautiful Black Irish vampire has a difficult life, some angst, and strong emotions, but he gets his HEA.
Sincerely,
Susan65
STORY INFO:
Genre: paranormal
Tags: paranormal, fae/fey/fairies, vampires/undead/immortals, disabilities, contemporary, mystery/murders, age gap, tattoos
Content warnings: very light spanking
Word count: 40,701
Winter Winds on Goodreads

PDF | Mobi | ePub
Review Winter Winds on Goodreads