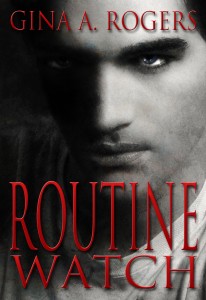 PHOTO DESCRIPTION:
A man looking through binoculars. He has muscular shoulders. His hands wrap around the binoculars, thumbs meeting along the bridge of his nose. His face is blocked by the binoculars but we can see dark scruff, full lips and dark, slicked-back hair. Reflected (almost hidden) in the lenses is an image of two naked men, one behind the other. The man in front is on his knees, back arched, with a smile on his face.
STORY LETTER:
Dear Author,
I'm new to town, just got out of the Navy— back from the Middle East. I moved here to be close to my brother and he's only lived here a couple years. I'm looking for a job and trying to get settled, but some of my habits from the Navy have carried over into civilian life. Like I can't sleep at night until I've closely checked the neighborhood out and made sure it's safe. And what to my wondering eyes did appear…
Wow…I've got to get my application in at the office building across the street!
Thanks—
Kiki
STORY INFO:
Genre: contemporary
Tags: voyeurism, former military, self-discovery, fetish, toys, HFN
Content warnings: light BDSM
Word count: 9,419
Routine Watch on Goodreads

PDF | Mobi | ePub
Review Routine Watch on Goodreads