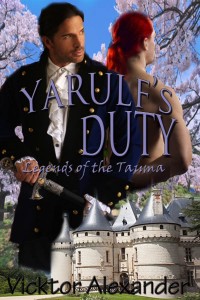 PHOTO DESCRIPTION:
2 drawn images 
1) A man with a naked upper torso. Long wavy red hair, purple eyes, wearing a leather thong necklace with a large red pendant. The background is a grayish sky. 
2) A royal portrait of a man with blue eyes and dark bluish hair. He's wearing a white shirt with frills down from the neck and flared frilly sleeves. Over the shirt is a royal blue coat with gold detailing. His left hand holds the handle of a sword.
STORY LETTER: 
Dear Author,

We are a very strict, conservative race. We are deeply formal, and decorum and honor are most important to us. So I'm sure you'll understand my utter dismay upon being married to one of those savages, those long-haired barbarians we had been fighting for centuries. And to a man, no less. I was to broker peace by bringing shame to my family and to my kingdom.
That was how I married into this happy, weird clan, this race of freedom and warmth that wouldn't know propriety if it hit them in the face. And I'm terrified. Terrified that that my dark, deviant, twisted desires will be brought to light for all the worlds to see. Not that my new family seem to care. From what I've seen, men holding hands or women kissing in the streets are as common as sunrise in this land.
And what am I supposed to do with my gorgeous, warm husband, who looks at me with such kindness in his eyes and a smirk I just want to kiss punch off his face? Or with that red-haired band of lunatics, with absolutely no concept of personal space, they call the royal family?
I'm starting to believe I could finally find myself here, and yet it is my duty to betray those that I've come to hold dearest. When I'm made to choose between duty and love, when the hour comes when I must favor a side, how will I do it without losing a part of myself?
Note: Please no D/s, BDSM, ménage or cheating. I'd absolutely love a sweet, funny story, more focused on quiet intimacy rather than scorching hot sex. 

Sincerely,

Filipa
STORY INFO:
Genre: historical, fantasy
Tags: magic, violence, alternate universe, royalty, warriors/soldiers, first time, enemies to lovers, in the closet, arranged marriage, HFN
Word Count: 24,051
EVENT: Love's Landscapes
Yarulf's Duty on Goodreads
ePub | Mobi | PDF
Review Yarulf's Duty on Goodreads