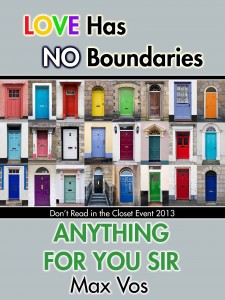 PHOTO DESCRIPTION:
Dom Daddy: Muscular, in shape, hairy bear of a man who is obviously very dominant. Our gentleman is a little rough around the edges. He wears a cock ring, has a Prince Albert piercing, and a pierced left nipple. He is wearing leather arm bands which partially cover tattoos on both upper arms. With his head lowered, he appears to be avoiding the camera, or is there more to it?
STORY LETTER: 
Dear Author,
This Dom is gruff and grumpy. He's rough around the edges and hard to please. Many even say he is too rough on his subs. What is his story? Is he too far gone to find love? And will his love be predictable in any way?
Sincerely,
Jason
STORY INFO:
Genre: contemporary
Tags: grief, BDSM, bears, blue collar, toys
Word count: 52,640
Dedication
I would really like to thank Ms. Susan G. for turning me on to writing. She has been a big supporter and a great friend. Thank you Susan, it truly was a lifesaver.
I would also like to thank Lise Horton and the ever handsome Troy Storm for having confidence in me and pushing me to continue. And last, but not least, Ms. Diane B. who was a wonderful Beta reader for this project. It was wonderful to work with you Diane! Big smooches!
Anything For You Sir on Goodreads (NSFW)

PDF | Mobi | ePub
Review Anything For You Sir on Goodreads