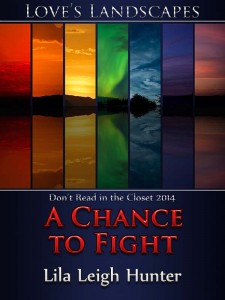 PHOTO DESCRIPTION:
A naked man sitting on the concrete base of a fenced area with another naked man standing between his legs. Several boulders are on the background marking the river's edge with a bridge alongside. They both could be considered bears and have several tattoos. They are embracing each other just before a kiss.
STORY LETTER:
Dear Author,

He means the world to me, always has and always will. Leaving him was the biggest mistake I ever made but I got so caught up in my own dreams of glory, desperate to make it as a pro boxer [can swap for another sport if you'd prefer]. I knew that staying in such a small town would put an end to my dreams. I never asked him to come with me; I knew he'd say no. Not because he didn't love me but because his parents were struggling and they needed him to stay close. I couldn't ask him to abandon his family for me. So I broke his heart― and my own― by leaving town and walking away from the only man I've ever loved.
It's been five years since I left and I've finally returned. It's the eve of his twenty-seventh birthday and my heart is pounding in my chest as I knock on his front door. He still lives in our home town but he's got his own place now. An old friend told me that he's living on his own and that he keeps himself to himself. I feel sick with nerves but I had to come back. I know I'm something of a celebrity now, but my dreams of success have long since lost their shine. Please say he'll give me another chance and that he'll forgive me for walking away. I need him to know how much I still love him and that I never stopped loving him. I don't want to spend another day without him in my life, in my arms, in my bed…
I'm looking for a contemporary romance with emphasis on the romance part! There's absolutely nothing I want more than a happy ending 🙂 Please don't make the guy he left behind have another boyfriend when he returns. Other than that, I don't mind seeing some drama/action/angst. I'd like to see lots of emotion, maybe some hurt/comfort, and a wonderful "I love you" moment. I live for the "I love you" moments! If you could help fuel my tattoo fetish by incorporating the MC's tattoos into the story and maybe adding some more tats, I'd adore you forever! I love it when tattoos have a story behind them 🙂
There isn't much I'd strongly object to, but please― absolutely no cheating or ménage, and preferably no GFY theme or BDSM.

Sincerely,

Lauren
STORY INFO:
Genre: contemporary
Tags: bears, boxer, alpha males, hurt/comfort, reunited, tattoos, first love
Content warnings: suicide attempt, homophobia
Word count: 23,942
Author's Note
Thanks to my hubby for his help at the beginning of this project. I know you drew a line after the armpit love.

To my Betas, Thing 1 and Thing 2, thanks for the support words and for always going along with whatever crazy idea I came up with since school.

And especially, thanks to my editor, A.M. Martinez. Hope this is the first of many conspiracies.

Lastly, I dedicate this short story to my mom, for always following me around the world to make my life easier, even though living with me is an adventure. You closed the factory with your best kid: me.
EVENT: Love's Landscapes
A Chance to Fight on Goodreads (NSFW)
ePub | Mobi | PDF
Review A Chance to Fight on Goodreads