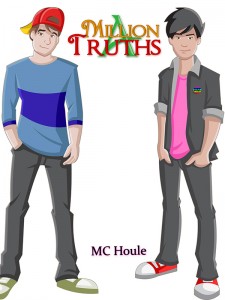 PHOTO DESCRIPTION:
Two brunet men on a bed. The younger one is on his knee, eyes closed. He looks content to let the other man kiss his belly.
STORY LETTER:
Dear Author,
I was always considered a geek in high school, luckily my best friend older brother always looked out for me and I was never afraid. This is why when I pick a collage I picked his. But this summer before starting school I came out to my family and best friend, and everyone rejected me. Now I am scared that the guy that I looked up to and felt safe with all my life will also reject me when I get to collage. Please tell me what happens when I get to school, and how this scene happened.
While I like a slow burn, I enjoy it getting very hot a one point. I also like HEA.
Sincerely,
Nadine
STORY INFO:
Genre: contemporary
Tags: coming out, homophobia, college students, athlete, geeks/nerds, friends to lovers
Word Count: 9,359
Acknowledgements
I want to thank Eija Livari and Cheryl Nitely, who did such a great job to make this story the best it can be. Thanks to everyone at the M/M Sprint Club on Facebook, whose encouragement and presence allowed me to write better and faster than I thought possible. Also a special thanks for Nadine and the M/M Romance group, without whom this story wouldn't have been possible at all.
EVENT: Love's Landscapes
A Million Truths on Goodreads (NSFW)
ePub | Mobi | PDF
Review A Million Truths on Goodreads