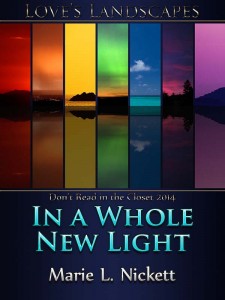 PHOTO DESCRIPTION:
In the first picture, a brown-haired young man is stretched out on a couch, his hands resting on his belly. He is wondering aloud if his best friend― who is sitting on the floor, propped up against the couch― could turn up the heat in the room. In the second picture, his black-haired best friend is now lying on top of him, cradling his head in one hand, and holding a book in the other.
STORY LETTER: 
Dear Author,

The picture says it all. Please give these boys a sweet story. All I ask is they are roommates and this scene included in the story. The rest I leave up to you. 

Sincerely,

MsMiz
STORY INFO:
Genre: contemporary
Tags: friends to lovers, gay for you, college, sweet/no sex, young adult characters
Word Count: 11,836
Acknowledgements
My heartfelt thanks to Ava Penn and Nash Summers, my awesome beta-readers whose continued support and kind words did wonders in making me feel more confident about my writing. I'd also like to thank Elizabetta for her insightful editing and her patience, which were greatly appreciated, as well as all the wonderful volunteers for this event. Last, but definitely not least, thank you to my friend Ayesha, who has been the best cheerleader I could have asked for from the very start of this project.
EVENT: Love's Landscapes
In a Whole New Light on Goodreads
ePub | Mobi | PDF
Review In a Whole New Light on Goodreads