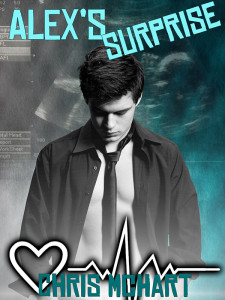 PHOTO DESCRIPTION:
A blond-haired man making love to a visibly pregnant man. From the expression on the blond's face and the kiss he presses on the black-haired man's shoulder, it's clear these two are a couple who are deeply in love. They are somewhere hidden, maybe a basement, since there are stairs visible in the background. It makes me wonder, is the pregnancy forbidden? Are they hiding because of that?
STORY LETTER:
Dear Author,
When I got pregnant unexpectedly and my partner-in-babymaking up and ran off, I figured I'd be alone forever. It was a rough time and if not for best friend I don't know how long it would have taken to drag myself out of it. I never thought I'd find myself in this position with him. He has been so supportive through the pregnancy and all these feelings I'd never noticed before started blossoming. This is our first time together and I never thought sex could be this amazing― tender and smoking hot all at the same time. I think it helps that he spent so much time wooing me and we were able to fully switch from "friend" mindset to "romance" mindset before we just jumped into bed.
Sincerely,
Kathy Reinard
P.S. I'd really like to see that initial dark time when he first found out he was pregnant and best friend was there with support and then some of the later wooing. However, what I'd really, really like is a tender hot sex scene with a heavily pregnant MC that isn't all about writing an M/F love scene and just making one participant male. Please make these two MCs equal and avoid differing power dynamics in the bedroom (no BDSM).
STORY INFO:
Genre: paranormal
Tags: vampire, m-preg, friends to lovers, forbidden male pregnancy, unexpected pregnancy
Content Warnings: hot sex with a guy who's not going to be the boyfriend
Word Count: 27,602
Dedication
For Kathy with thanks for such a great prompt and for my awesome beta readers for the help. For Meg from Bawd Designs for the awesome cover.
And, as always, for my husband. Love you.
EVENT: Love is an Open Road
Alex's Surprise on Goodreads (NSFW)
ePub | Mobi | PDF
Review Alex's Surprise on Goodreads