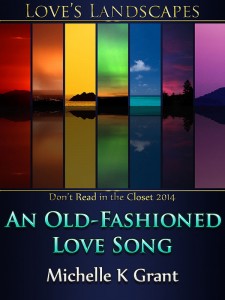 PHOTO DESCRIPTION: 
In an austere white bedroom, two men are locked in a passionate embrace. The dark haired man, on the bottom, has one arm draped over the hips of the blond man, on top. His other hand tightly grasps his lover's neck. At the same time, he places a tender kiss on his lover's neck. His lover, instead of fighting to free himself, grips his shoulder, encouraging him to tighten his grip.
STORY LETTER: 
Dear Author,

I am so in love with this man, but I'm afraid to say anything because I'm pretty sure he only wants to play and I don't want to scare him off. He thinks I'm too young to commit to someone, but I'm not. He takes such good care of me, but he doesn't realize I can take care of him, too. He needs to take control during sex, and I love it when he does. He knows exactly how to get me going, and I don't want to lose that. 

Sincerely,

Sunny

P.S. *BDSM, please, but nothing too hard core, and no humiliation play. I like it sweet and tender, but also firm and rough 😉
*Also, no cheating, long separations or big misunderstandings.
*Bonus points for including this scene in the story, and adding some nipple pinching.
STORY INFO:
Genre: contemporary
Tags: BDSM, twinks, blue collar, age gap, shibari
Content Warnings: breathplay, single-tail
Word Count: 31,125
Acknowledgements
I would like to add a quick word of thanks to my Beta Reader; Stacey Jo Asher and my DH Robbie and my SO Lynn, who both gave this a read through even though neither one of them are fans of the genre. I would also like to thank my editor, Raevyn, who caught errors that we all missed. The Woodshed is a real club in Orlando, Florida. It is used here with the express permission of the club's owners. All characters in this story are fictional.
EVENT: Love's Landscapes
An Old-Fashioned Love Song on Goodreads (NSFW)
ePub | Mobi | PDF
Review An Old-Fashioned Love Song on Goodreads