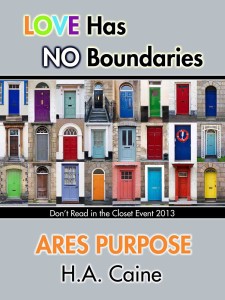 PHOTO DESCRIPTION:
This is a drawing rather than a photograph, and not a manga-style cartoon but a more realistic depiction. A muscular, naked dark-haired man lies face down on a bed, his pale butt cheeks contrasting with the rest of his tanned, cut body. Another equally muscular naked man is coming though the doorway next to the bed, carrying a loaded breakfast tray at exactly the right height to hide anything interesting.
STORY LETTER:
Dear Author,
This image really needs a story. It's so intimate. Maybe he is being pampered by his lover. Supporting him through a difficult time. I would really love to read a story about a career, and how that sort of responsibility affects them and their relationship. I think these two are an established couple.
No BDSM or dub con for this please.
Sincerely,
Sarah

STORY INFO:
Genre: contemporary
Tags: sweet no sex, established couple, homophobia, fighting
Word count: 4,059
Ares Purpose on Goodreads (NSFW)

PDF | Mobi | ePub
Review Ares Purpose on Goodreads