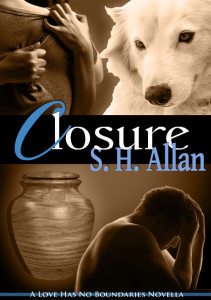 PHOTO DESCRIPTION:
Two nude men sit on the floor. The larger one has his arms and knees around the other, his cheek pressed to the side of the other man's head. The smaller man's face is buried against the first man's chest. He's curled into a ball, shoulders hunched like he's hurting badly. One hand touches the larger man's side, as if he's trying to grasp hold but can't pull away from the pain that fills him.
STORY LETTER:
Dear Author,
"It's okay." He whispered to me, his words were said from the heart but they did little to ease my racing heart and mind. God I love this man so much and one of the few people who didn't understand is gone now, we'll never get to settle the argument that pushed us apart.
"No, it's not okay. He was one of the most understanding people in my life and yet he couldn't understand… couldn't approve of us, he's no longer here and yet he's still making me second guess everything I feel for you."
If possible he held me closer and the warmth and comfort I received from his embrace was immeasurable and his voice when he spoke held more then just understanding it held love, "that doesn't mean you shouldn't say goodbye to him, I know you don't believe it but he loved you Derrick and I'm certain he wanted you to be happy. Tell him what you couldn't before I know he'll hear you and he'll understand trust me, know right now Derrick that I'll be with you every step of the way I'll always be here for you.
I rested my head against his chest and let the tears flow, what he said rang true but how can I make peace with who almost cost me the one I love the most?

I hope after this difficult moment in Derrick's life that there will be a HEA or HFN, a little flashback describing the difficult event that leads to this comforting moment would be nice if it's not too problematic to handle and also I wouldn't mind a couple of steamy yet romantic scenes between Derrick and his understanding and sweet lover.
I also wouldn't mind a few scenes here and there that go into how this wonderful couple came to be as strong and close as they seem to be in this photo. Oh and a few notes, contemporary romance please, no BDSM the photo doesn't really convey this to me anyway, and the guy on the right should be Derrick the one dealing the upsetting issue oh and he doesn't have to be Derrick I just liked the name and it popped into my head while I was writing the prompt.
There's a beautiful story waiting to be told here and I know someone in this wonderful group can do it justice.
Thanks so much!
Warm regards, 
Gabrielle

STORY INFO:
Genre: contemporary
Tags: law enforcement (corrections), dogs, grief, hurt/comfort, interracial, switch or versatile, occasional humor amid a lot of crying, PTSD
Content warnings: explicit sex
Word count: 56,433
Dedication 
To S. H., who was so much greater than he ever believed. I wish he could see the beautiful mark he left on me and the world. And to C. C. whose dedication and contributions toward improving the lives of children in foster care in Washington State touched so many lives. Both of you were incredible people— your legacies will live on— and I am privileged to have known you.
Acknowledgements 
Thank you to Allison, my beta reader, and my sister Renee, for keeping me from internally combusting. This story would never have been published if it weren't for you. I'm grateful to Gabrielle for creating this wonderful prompt. And of course, thank you to the M/M Romance group for giving me this opportunity, and the crew that worked so hard on the LHNB project. I couldn't be more appreciative.
Author's Note 
The huge flag described in this story really existed. It hung on the side of Prince of Peace Lutheran Church in Shoreline, Washington for at least a year. Although I apparently grossly exaggerated it in my mind, it was still impressive at around 10' high, and driving down that very busy road, impossible to miss.
Closure on Goodreads

PDF | Mobi | ePub
Review Closure on Goodreads