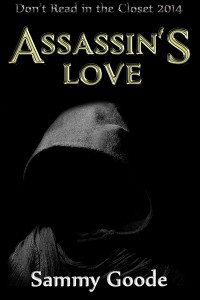 PHOTO DESCRIPTION:
A gray mist shrouds the scene behind him, as he seems to emerge from its depths, a bloody dagger clasped in his right hand and a gold signet ring in the other. He wears the clothing of a man who would be welcomed at the court of King Henry VIII. His black leather breastplate covers a midnight blue shirt and his black cape billows about him, the hood drawn over his head, exposing only his face. His eyes speak of weariness that is shrouded in sorrow. He lives in smoke and shadow and his is a deadly occupation.
STORY LETTER:
Dear Author,
I don't know who I am. I was abandoned when I was a child; they used to call me a freak and beat me because I couldn't speak. I'm mute but I survived.
Then my master, the old Earl, who is a diplomat but who is also a familiar figure at King Henry VIII's court, took me in his household and trained me: I'm an Assassin!
I'm a shadow, working in the shadows; I do what I'm told to do. I have no friends. Sometimes I feel lonely and I dream about something different, something more…
Tell me, is there any hope for me, can you help me!?
Thank you,
Misty.
P.S. Please no BDSM, no D/s, no poly, no incest, no paranormal, no fantasy.
STORY INFO:
Genre: historical
Tags: assassin, mute main character, nobility, set during the time of King Henry VIII's rule
Word Count: 11,485
EVENT: Love's Landscapes
Assassin's Love on Goodreads
ePub | Mobi | PDF
Review Assassin's Love on Goodreads