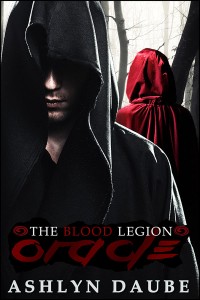 PHOTO DESCRIPTION:
A blond swordsman in a red cloak holds a young man with reddish-brown hair and shackles around his body, arms and legs, close to him. He holds a sword in front of them protectively, while the chains start to break with the color of blood.
STORY LETTER:
Dear Author,
In my younger days, I was a rogue. I stole things for money, or simply for thrills, and I was very good at what I did. Throughout the underground I became legendary. But as the years wore on, the luster wore off, and I found myself at an impasse. My life felt empty. So I embarked on a career change, learning all I could about the ways of a warrior. Now my skill with a blade is nearly equal to my skills as a thief; I work for whoever hires me, returning objects to their rightful owners and battling whatever human or creatures stand in my way.
This job is different. A rescue mission. Simple, or so I think. When I meet the man whose clan wishes for his safe return, I find many surprises… The magical prowess he has. His claim that his clan has dark plans for him. The fact that our destines are intertwined more deeply than I ever expected…
Sincerely,
Julia
STORY INFO:
Genre: fantasy, young adult
Tags: magic users, adventure, mythical creatures, oracle, sweet/no sex, reformed thief
Word Count: 39,725
Acknowledgements
Much thanks to Julia for her prompt that inspired the creation of this story. And to Jessa, Finn, and Barb for their feedback and editing prowess that shaped this story to its final version.
EVENT: Love's Landscapes
The Blood Legion: Oracle on Goodreads
ePub | Mobi | PDF
Review The Blood Legion: Oracle on Goodreads