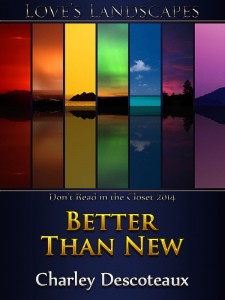 PHOTO DESCRIPTION:
Extreme close-up of a handsome young man with beautiful blue eyes and a sexy bit of scruff. He's exhaling a drag from a cigarette, the smoke curls around his face, framing his jaw and pouty mouth. His expression leaves no doubt he's looking at something― or someone― he'd like to get close to.
STORY LETTER:
Dear Author,
Please use this excerpt as a prompt:
O' God it's wonderful
to get out of bed
and drink too much coffee
and smoke too many cigarettes
and love you so much
― from Steps by Frank O'Hara
Any setting or time period. A slice-of-life story would suit me fine. No BSDM, violence, mpreg, or shifters, please.
Thank you,
Jenna

STORY INFO:
Genre: contemporary
Tags: friends to lovers, disabilities, college, barista, slow burn
Word Count: 7,957
EVENT: Love's Landscapes
Better Than New on Goodreads
Download removed at author request

Review Better Than New on Goodreads