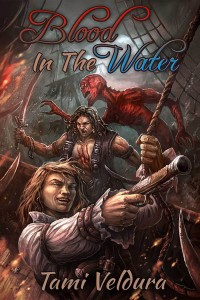 PHOTO DESCRIPTION:
Two pirates sit together in the lower deck of a ship enjoying each other. One of them, blond, is shirtless and smiling. He has a snake tattoo on his left shoulder. He leans forward to lick the nipple of his lover. The second pirate has black hair down to his chest. He straddles a leg of the blond and arches toward him. He appears more reserved. The blond restrains the black-haired pirate by one wrist.
STORY LETTER:
Dear Author,
Being a pirate is one of the most dangerous and exciting jobs ever. What people don't know is that what makes it even more thrilling is to intercept another pirate's mission, especially when you'll get to see the other pirate's bewildered expression. When will he notice that I always do it on purpose, but not because I hate him? They do say there's a thin line between love and hate…
I hope you'll be able to write our story and make it into one of the most exciting journeys ever, even if it means that many battles will have to be fought.
Sincerely,
Jane A
STORY INFO:
Genre: historical fantasy, paranormal
Tags: treasure hunt, slow burn/ust, sea battles, pirates, demons/spirits, spirit possession, tattoos, HFN
Content Warnings: extreme graphic violence
Word Count: 27,545
EVENT: Love's Landscapes
Blood in the Water on Goodreads
ePub | Mobi | PDF
Review Blood in the Water on Goodreads