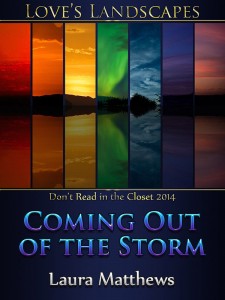 PHOTO DESCRIPTION:
A double amputee lies on his back, one man supporting his head and shoulders as another stands between the vee of his thighs, fucking him. Beneath the veneer of sex, the scene feels contrived and the intimacy broken, chipped and cracked by a lack of a personal connection.
STORY LETTER:
Dear Author,
The man on his back is my friend― no, my best friend, and I love him. He brought me here for moral support.
Seeing him with these men is hot as Hell, but it's also breaking my heart.
We were together when he lost his legs in a war that didn't belong to us. Since we returned, he always seems ashamed of any physical contact, and I have to hide the depths of my feelings for him. Now some kinky porn studio has offered him money for a couple of films, and he's going to use the proceeds to get the prosthesis he desperately wants, thinking that being able to walk again is his only path to happiness.
Help me make him accept and return my love. Help me show him that I'd always love him no matter what.

Comments:
I didn't use names so the author could choose them. I want this to be a love story, but the raunchier the better, and I particularly want at least one sex scene within the context of one of the porn movies the cutie on his back has agreed to make. The POV of the friend in love is really important too; I don't mind if there are several POVs, but his is a must.
Sincerely,
Gabbo
STORY INFO:
Genre: contemporary
Tags: interracial, military men, slow burn, fetish for hire, friends to lovers, disability, ménage scene, sex industry
Word Count: 10,810
EVENT: Love's Landscapes
Coming Out of the Storm on Goodreads (NSFW)
ePub | Mobi | PDF
Review Coming Out of the Storm on Goodreads