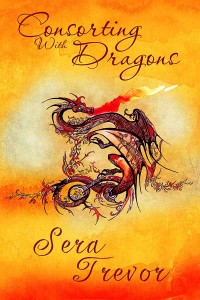 PHOTO DESCRIPTION:
A portrait of a beautiful young man with shoulder-length red hair and intense amber eyes. He wears a cloak with long spikes on the shoulders. Behind him is a silhouette of a red dragon.
STORY LETTER:
Dear Author,

It has been nearly 300 years since the last Lord of Drae chose a male consort… so what am I doing here at the capital, dressed in clothes finer than anything I have ever seen, and undergoing three months of (incredibly boring) testing by the Lord's minions?
Well, to be honest, it is all my father's fault. Or my father's lack of ability to win at anything, ever. Not at life, not in love, and most certainly not at the gambling tables. While I can do nothing about his life, nor his love, he seems to think I can do an awful lot about his gambling debts. Mainly, he can sell (er… marry) me off to the highest bidder and happily go on sinking my mother's land, title, and general good name into the ground he buried her in.
Trouble is, I'm not really worth all that much to anyone carrying a purse, let alone wanting a husband. But if I was unique, if I had done something very few could ever claim to have accomplished (or, realistically, tried to accomplish)… well then, maybe I'd be worth something. To someone. Somewhere. Or, at least my father hopes. Personally, three months free of my father sounds like a rather nice vacation. Three months of good food, free clothes, fine surroundings, and one flirty guard. Yes, that sounds just lovely.
It has been nearly 300 years since the last Lord of Drae chose a male consort… and neither fire nor fate is going to change that any time soon. Or so I thought…
(um… not a lot of restrictions on this. I only require a dragon or two, a flirty bodyguard, and some type of HEA or HFN. Also, if you can make it funny, I will love you forever.)

Sincerely,

Carrissa
STORY INFO:
Genre: fantasy
Tags: humor, age gap, non-explicit, royalty, magic users, soul mates
Word Count: 41,053
Acknowledgements
I would like to thank my betas, Jessica and Roger, as well as my extremely supportive husband. I would also like to thank the terrific team behind the Love's Landscapes Event, and the posters over at the Love's Landscapes Author Support Thread. You all have made this such a wonderful experience! Lastly, I'd like to thank Carissa for providing me with such a wonderful prompt― I hope you enjoy reading it as much as I enjoyed writing it!
EVENT: Love's Landscapes
Consorting with Dragons on Goodreads
ePub | Mobi | PDF
Review Consorting with Dragons on Goodreads