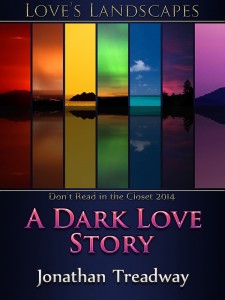 PHOTO DESCRIPTION:
Attractive man with short grey hair and grey stubble leans against a chain-link fence on the steps, a lit cigarette between his full lips, and his legs spread. His white button down is totally open to his manscaped chest and sixpack, the sleeves rolled up. The olive and red suspenders look classy with his partially opened tan slacks. His head leans back with his eyes half-closed, and the blood from the cut over his right eye has slowed.
STORY LETTER: 
Dear Author,
This song is the story of me and my husband.
Our love story is not a typically romantic one. It was anything but usual. It wasn't BDSM but it was definitely twisted with a slight delirium added to it. We do love each other dearly but that did not stop us from being dysfunctional, both with each other and people around us. Almost everybody says we should not stay together. That was not a choice either of us wants to make. So we stayed together, loving one another, despite how it twisted us like jumbled cords.
Please make this a dark love story but not BDSM or D/s, that would be too easy for what I intended. Please make it about two people whose love drives people around them crazy not with prejudice or bigotry. Just that they did not think it was good for either of them to stay together. They mean well but that was not more important than the couple's love for each other. This couple do drive each other crazy as well but the alternative, of being with other people, was something that neither of them wanted. So they stayed together, no matter what happened, what is happening and what will happen. 

Sincerely,

Pete

P.S. Please use this Live Performance to set the tone of the story
STORY INFO:
Genre: contemporary
Tags: law enforcement, homophobia, established couple, dark, 2 alpha-males
Content Warnings: graphic violence; past child abuse
Word Count: 10,762
EVENT: Love's Landscapes
A Dark Love Story on Goodreads
ePub | Mobi | PDF
Review A Dark Love Story on Goodreads