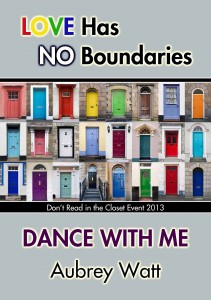 PHOTO DESCRIPTION:
Two shirtless men, both wearing jeans and straw cowboy hats, are dancing together while the livestock looks on. The one with his back to the camera is blond, and blocks a clear view of the other man. They are well-matched in height and build.
STORY LETTER:
Dear Author,
The only thing I can think of that might be sexier than two men dancing is two cowboys dancing.
What did they overcome to become bold enough to dance whenever they want to?
Sincerely,
Melanie~~
P.S. HEA please. Would love sweet and sexy, with or without much erotic action— your call. One of my favorite sex acts is a hot dry hump. No incest/twincest or hard core, but intensity and/or angst would be fine. The need/desire to dance with each other should be important within the story.
STORY INFO:
Genre: contemporary
Tags: cowboys, first time, enemies to lovers, in the closet, coming-out, homophobia
Word count: 6,737
Dance With Me on Goodreads

PDF | Mobi | ePub
Review Dance With Me on Goodreads