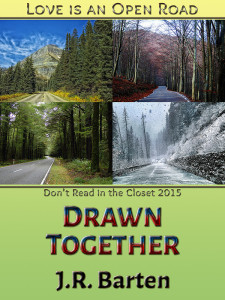 PHOTO DESCRIPTION:
Penciled sketch of two men, naked in bed. The blond is thin, lying on his back, legs out straight, head on a pillow. The brunet is straddling the blond, back muscular and slightly arched, left hand on the bed's headboard. The blond's penis is erect and is against the crease of the brunet's buttocks. Blond's left hand rests just above the elbow of the brunet's right arm. They look intensely into each other's eyes.
STORY LETTER:
Dear Author,
This is a sketch a friend did of us in college; our love was so intense and we thought that we had the rest of our lives to be with each other… then "life" happened and suddenly there was no "we" anymore.
Dear Author: Romance, romance, romance!!! I would love for you to give me a "love meant to be" story… preferably with little or no kink, lots and lots of hot kisses, and with a "twist" that will make the HEA all the more sweeter!!!
This is the feeling that I am hoping for…
If I could have just one wish,
I would wish to wake up everyday
to the sound of your breath on my neck,
the warmth of your lips on my cheek,
the touch of your fingers on my skin,
and the feel of your heart beating with mine…
Knowing that I could never find that feeling
with anyone other than you.
Looking forward to whatever you are inspired to write for me!!!
Sincerely,
Donna
P.S. Please no tentacles or 'cest of any kind
STORY INFO:
Genre: contemporary
Tags: soulmates, hurt/comfort, college, drag, Republican, Democrat, politics, reunited, tearjerker, death of a secondary character, long-distance relationship
Word Count: 29,640
Acknowledgements
Thank you to my beta readers, David, Debbie, Lori and especially to Jul and Michael who also edit my run-on sentences, forgotten commas, and wayward punctuation. To Mike, my college bestie and overall amazing guy— thank you for providing the inspiration for Clinton. To the entire group of DRitC volunteers who put more time and energy than I ever realized into making this event a success. And finally, to Donna, your prompt inspired me to take a chance and grab it without looking back. I can never thank you enough.
EVENT: Love is an Open Road
Drawn Together on Goodreads (NSFW)
ePub | Mobi | PDF
Review Drawn Together on Goodreads