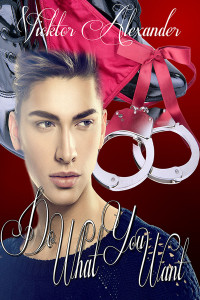 PHOTO DESCRIPTION:
Two men lying naked on the bed facing the ceiling, in the midst of having sex. One lying on top of the other, but the picture is only of their lower halves. The man on top has his legs straight up, wearing a pair of pantyhose, black garters with red ribbons, and black patent stilettoes which are crossed at the ankles, being thoroughly fucked by the man on the bottom whose legs are spread eagled.
STORY LETTER:
Dear Author,
I would like a story that heavily involves MANTIES (men who wear women's lingerie, particularly lacy panties) with D/s or M/s relationship thrown in. I really want the MANTIES wearer to be comfortable wearing the MANTIES rather than being all angst-y and self-loathing about it, please, even to the point of being ok/turned on by some heat of the moment femininization. Also, it can be either the top, bottom or both that wear the MANTIES. Otherwise, kink it up. The only thing that's a hard limit is scat. Bonus points for chastity, though.
Setting? That's up to you, dear author. Kink it up in space. Kink it up in the future. Kink it up with some vampires in future dystopia. Kink it up Regency style with a bunch of corsets thrown in. Kink it up in a fantasy world with dragons if you like.
I would like either an HFN or HEA.
Thank you in advance, dear author,
OKW
STORY INFO:
Genre: contemporary
Tags: BDSM, businessman, cross-dressing, established couples, manties, men with children, secret relationship, spanking, toys, workplace sex
Word Count: 15,020
Thank You
Thank You to Optimist King's Wench for the AWESOME prompt. I had an amazing time with these two guys and knew that I had to do one of two things with them, either write the 50k words they were demanding and make everyone wait, or give everyone just a taste of their story. So I hope you're okay with this taste. There is so much more of Reginald and Preston, and don't worry, I'm going to make the story free when I'm done. LOL.
Thank you to my awesome assistant, Melissa, who laughed and said, "Of course you got that prompt," when I told her. And to my bestie, Adara, who described the picture to me in very graphic, steamy detail. I still have it in my email― fans self.
To my amazing cover artist and friend, and to all of the readers who encouraged me on the thread and got excited when I chose the prompt. You guys ROCK!!
And as always: To the Vicksters and my other author friends who wrote, messaged, called, Facebooked, etc. when they didn't hear from me for a while. I feel extremely loved. You have no idea what that means to me. None at all. Thank you. <3
Author's Note
If you are going to engage in any BDSM practices, make sure you know what you are doing. BDSM is not to be taken lightly. Make sure you have a safeword in place. Make sure you have established hard and soft limits. And please be sure you have a trained professional on hand. No matter how successful it was, FSoG was not an accurate depiction of BDSM. If you are curious or interested in the Lifestyle there are plenty of resources out there to help you. Please do not use romantic fiction as your guide. For more info: http://www.fetlife.com,http://www.submissiveguide.com/encyclopedia/bdsm/, orvicktoralexander@vicktoralexander.com .
EVENT: Love is an Open Road
Do What You Want on Goodreads (NSFW)
ePub | Mobi | PDF
Review Do What You Want on Goodreads