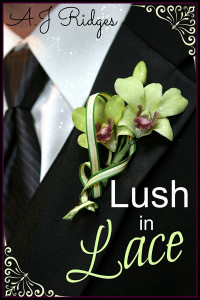 PHOTO DESCRIPTION:
A view of the midsection of a man in a black formal tuxedo. His pants hang halfway open, showing white lace panties and thigh-high, beige, lace-topped stockings. He wears a white satin glove on his right hand. The gloved hand is wrapped around the base of his large, exposed, erect cock. The mushroomed head of his cock is well defined and a stark contrast to the white lace panties and white glove he's wearing.
STORY LETTER:
Dear Author,
My brother finally got to marry his lifelong best friend, Barry, this weekend. I was Jamie's best man and Scott was Barry's best man. I had met Scott previously when he and I attended the same high school, though we ran with different crowds. He was a jock and I was a nerd, yet I always had a secret crush on him. During the week leading up to the wedding we spent a lot of time together― from running errands for the grooms to attending the stag party last night. He's personable, though seems more subdued than he did in high school, but he's still built like a jock and well-hung. Yes, I noticed that bulge in his jeans, but I'm sure he'll never be the man for me. I want someone softer, more feminine. I even harbor a secret wish that my yet-to-be-met life mate will enjoy wearing women's lingerie. And that, of course, would never fit with Scott's persona.
I would absolutely love a GFY story and would like the man in the photo to be Scott. Perhaps I could catch him in the restroom at the wedding with his hand down in that sexy lingerie? I don't want to stifle creative freedom though, so names and situations can be changed. Please give the guys a HEA and avoid dub-con and non-con. BDSM is okay, especially D/s relationships.
Thanks!
Sincerely,
Barb
STORY INFO:
Genre: contemporary
Tags: enemies to lovers, gay for you, out for you, humorous, snarky, bickering best men, lingerie, fetish/toys, nerd/jock, panty-scorcher, porngasmic fluff, family
Word Count: 39,817
Acknowledgements
I would like to give my heartfelt thanks to Barb-rede-2-read for her unique spin on this tantalizing prompt. Unknowingly, she made me take this story in a direction I never would have considered, and I'm so grateful for that. I'd like to thank my beta readers Ren and Armi. Even with your busy schedules, you took the time to help make this story so much better. I can't express how much that means to me! Finally, special thanks to the moderators of GR's M/M Romance Group for coordinating this initiative, the volunteer editors, proofreaders, formatters and the QA team. Without all their hard work, these stories wouldn't exist. You Rock!
Thank you to my future readers and fans… I love you all!!!
AJ
EVENT: Love is an Open Road
Lush in Lace on Goodreads (NSFW)
ePub | Mobi | PDF
Review Lush in Lace on Goodreads