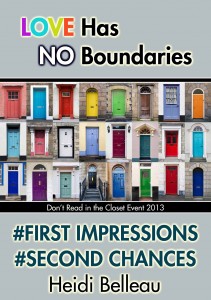 PHOTO DESCRIPTION: 
Instagram picture of two young men sharing a surprised kiss, both of them with eyes wide open.
STORY LETTER: 
Dear Author,
He's always been a little shy and anxious in social situations, making it difficult for him to meet new people. Most nights he stays home. Even though his long-time friend calls trying to get him to go out every once in a while, he makes excuses and stays in where he's away from strangers and crowds.
After a long week, he wants nothing more than to relax into his typical routine when his friend shows up at the door.
Sincerely,
Jilly
STORY INFO:
Genre: contemporary
Tags: first time, coming of age, friends to lovers, reunited, young adult characters
Content warnings: mention of suicide
Word count: 13,125
#First Impressions #Second Chances on Goodreads

PDF | Mobi | ePub
Review #First Impressions #Second Chances on Goodreads