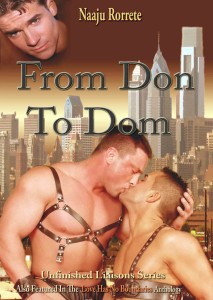 PHOTO DESCRIPTION:
Against the backdrop of a plain, white brick wall, a man with short dark hair sits on a modern sofa, flanked by two naked younger men. He wears a black dress shirt and slacks, and short shiny black boots. The curly-haired young man on the right lies on his side, knees tucked up, and has his head in the man's lap, his right hand tucked under the man's thigh, fingers curling up. On the left, the other young man leans on one elbow to look at the camera, leaning back against the man's chest.
STORY LETTER:
Dear Author,
My name is fifth-generation Sicilian, passed down from father to son. Just like my profession. Mob boss with the Cosa Nostra. These are my boys. The one to my right is strong-willed and needs a firm hand. The one to my left is damaged and fragile, and requires more patience than I have most days. They have each other, which is good because we're at war with a rival family, and my time to devote to them is not enough, never enough. I fear one or both will become a target. A way to hurt me where I live, where I love and from which I'd never recover.
Sincerely,
Moderaterix Lori

STORY INFO:
Genre: contemporary
Tags: M/M/M, BDSM, twinks, hurt comfort, mafia, D/s
Content warnings: some violence
Word count: 28,042
Acknowledgments
Thanks to Moderaterix Lori, whose awesome prompt inspired me to write this story. Extra special thanks to Nancy Canu and Averin Noble, who generously dedicated countless hours copy-editing and proofreading this story. The warmest thanks to Jen, who worked so hard to make the Don't Read In The Closets events possible. Also, I want to show my deep appreciation to Pat, who is my cheerleader and always believed in me.
From Don to Dom on Goodreads

PDF | Mobi | ePub
Review From Don to Dom on Goodreads