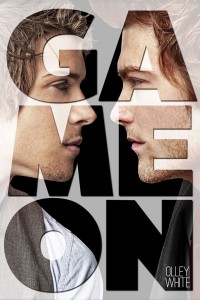 PHOTO DESCRIPTION:
Two men, in their early twenties, lean towards each other for a kiss. Both smiling, they have their eyes shut. One boy has tousled hair, an earring and an upper ear piercing. He's wearing a bright turquoise T-shirt while the other has neater hair and is wearing a checked shirt. Their hands are held, and a gaming controller nestles between them. A computer screen with a game playing on it is visible in the background.
STORY LETTER:
Dear Author,

We met in the strangest way.

I was convinced he was a girl because of his choice of character, and he thought the same thing about me. You can imagine how surprised we were when we first met in person. How confused I was about my feeling for him. I was already in love with the person behind the character, but I had never been attracted to a man before.

Can you tell the story of how we became that happy couple in the picture?

Sincerely,

MC
STORY INFO:
Genre: contemporary
Tags: friends to lovers, UST, gaming, humorous, geeks, men with pets
Word Count: 35,947
Dedication
This story is for all of us who have made a judgment― intended or not. It is for all of us who have learnt from those judgments. It is for all of us who love love and hate labels.

I have loved every minute of this writing challenge and would like to thank MC firstly for such a great prompt.

Without the support of my fellow Unicorns who, underneath all the smut, have hearts of gold and are generous to a fault, this wouldn't have been possible. Those layers of smut can be kinda deep though, just as a warning. 😉 As morale boosters, question answerers and doubt bashers they are amazing. Thanks Uni's, you truly are the best and I love you all.

Enormous thanks to Sara for beta-reading and editing and giving me confidence.

Also a big thanks to Natasha Snow for my beautiful cover― I love it hard, and for believing in these boys from the start.

I wouldn't be me without my husband and children. They complete me and let me be just me. They let me listen to the characters in my head― even if it means I burn tea. Thanks guys, I love you so, so very much.
EVENT: Love's Landscapes
Game On on Goodreads
ePub | Mobi | PDF
Review Game On on Goodreads