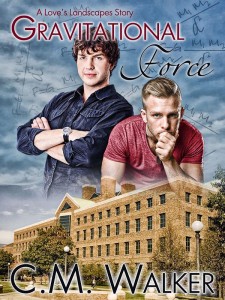 PHOTO DESCRIPTION:
A slim, dark-haired man pins a bare-chested, muscular blond man against the wall by holding his shirt above his head. The dark-haired man fondles the goods inside the blond's open pants and kisses his neck. They partially cover an Avengers poster that is hanging between a bookcase and a door.
STORY LETTER: 
Dear Author,

I could get free in a heartbeat. I was strong enough and had the right training that should make it simple to break loose from my roommate's weak grip on the shirt trapping my arms to the door. So why couldn't I do it? Was it because I was trembling with the need for skin to skin contact? Maybe it was the fact that my brain had shut down the second my roommate had cupped my crotch through my pants. Or could it be those damned dreams that had been haunting me every day since I first set foot in this dorm room? Those dreams where my hands were roving over pale skin, where whimpers and mewls of pleasure came from between soft pink lips, and where the world fell away as I watched every inch of my cock disappear between ivory cheeks.
(I think it's sexy and sweet when the bottom takes the lead, especially when the top is too shy to make the first move. I want to know how these boys got to this point and just a little of what happens after, a HFN ending please.) 

Sincerely,

Viv
STORY INFO:
Genre: contemporary, new adult
Tags: college, barely legal, roommates, shy top, grief
Word Count: 9,926
Acknowledgements
Publishing a story might not need an entire village, but it does take a collection of wonderful people. An entire team of volunteers from the Goodreads M/M Romance group spends countless hours to pull off an amazing anthology every year: organizers, administrators, editors, proofreaders, formatters, and Q/A'ers. Thank you, thank you, thank you.

To Viv, who wrote the Dear Author prompt, planting the seed that grew into Gravitational Force, I thank you for inspiring me to tell Luke and Nate's story.

To my critique partner in crime― at least in M/M Romance― Hunter, thank you for your support, brainstorming help, and cheer-leading. For your editing expertise, thank you, Julie and Jade. Love all three of you!

For that beautiful cover courtesy of Janice, thank you for your time, your skill, and your patience.

A bottom-of-my-heart thank you to my husband and two children for their understanding, patience, and support while I work on this crazy little thing called a writing career.

And finally, last but absolutely not least, thank you to every single person who reads Gravitational Force. Thank you for letting me tell you a story.
EVENT: Love's Landscapes
Gravitational Force on Goodreads (NSFW)
ePub | Mobi | PDF
Review Gravitational Force on Goodreads