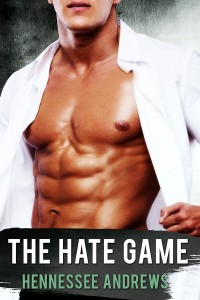 PHOTO DESCRIPTION:
Two men stand in front of an arched window. They are holding hands, shirtless, adoration for each other in their eyes. What is held behind their gaze, the emotion the camera cannot capture, is the intense feeling of hate one model has for the other. They may be each other's worst nightmare, but anything is possible, and they just might discover their sweetest dream.
STORY LETTER:
Dear Author,
Can you see the caring smiles on our faces and the love in our eyes? Yes? Well, that's bulls**t!
We are models and it's our job to fake emotions. To tell you the truth, I hate his guts. He is arrogant, violent, smug, and manipulative. What's there to like? And why do I keep bumping into him everywhere I go? He's my worst nightmare! … or maybe my sweetest dream?
Cheers!
Sincerely,
Elly
STORY INFO:
Genre: contemporary
Tags: alpha male, enemies to lovers, humorous, male models, spanking, verbal banter
Word Count: 13,946
EVENT: Love's Landscapes
The Hate Game on Goodreads
ePub | Mobi | PDF
Review The Hate Game on Goodreads