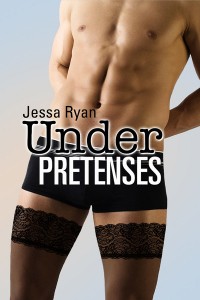 PHOTO DESCRIPTION:
The picture shows the torso and legs of a scantily clad man. Wearing only white, ruffled-lace undies and pink-striped stockings, his sexy, well-toned chest and stomach are bare and scrumptious. The tiny bows add to the contrast of strength and vulnerability.
STORY LETTER:
Dear Author,

My theater class recently watched the movie Stage Beauty, starring Billy Crudup. I've never been so turned on by seeing a man's performance of "feminine" qualities, movements, and mannerisms. Watching that movie, and already being a fan of the very masculine Mr Crudup, left me so painfully turned on― I was the first to get out of the room when the lights came up!
I just hope no one saw me racing out of the room with a hard on― but they probably wouldn't be able to guess why, anyway, right?
Wrong. Today I received a package in the mail with these beauties in it― no note, no idea of who sent them. Didn't let that stop me from putting them on though, and they feel AMAZING. How will I find out who guessed my secret?

Thanks for helping out,

Skookumjam
STORY INFO:
Genre: contemporary
Tags: college, cross-dressing, humorous, secret admirer, underwear fetish
Word Count: 40,422
Dedication
Thank you to Skookumjam for the awesome prompt and picture that gifted me with hot men whispering their deepest desires in my head.

A very huge thank you to my family, who had to put up with my crazy writing for the last six weeks, and still love me.

And to my amazing betas― you guys rock! I'd offer to have children for you, but since my husband has said "No way!" would you settle for chocolate?
EVENT: Love's Landscapes
Under Pretenses on Goodreads (NSFW)
ePub | Mobi | PDF
Review Under Pretenses on Goodreads