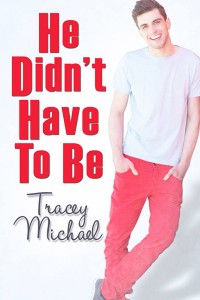 PHOTO DESCRIPTION:
A black and white photo accompanied my prompt. A blond man, early twenties, is being kissed by a taller, dark-haired man, also in his early twenties. Behind the men, there are small white festival tents and trees.
STORY LETTER:
Dear Author,
He didn't have to do it, but he did anyways. He's like that. It's one of the many reasons why he's my best friend. What did he do?
He kissed me.
In front of everyone.
They say actions speak louder than words, and with just one kiss… he silenced every one of his jock friends in true Griffin style.
The only downside now is that I can't stop thinking about his lips pressed firmly to mine, and just how right it felt. I've never really thought about Griffin in that way, after all, he's straight, but now I can't stop thinking about him period. And sometimes, out of the corner of my eye, I catch him watching me in a way that makes me wonder if he can't stop thinking about me too.
Griffin is my past, my present… Is he my future too?
* I'd just like a good contemporary, friends-to-lovers, GFY theme. There can be as little or as much angst as you want as long as Griffin, the dark haired one in the picture, and unnamed blonde get their HEA, which is a must. The background appears to be like a town fair or something of that nature. You can use that setting as a part of your story or make one of your own; I'd just really like this moment to be the catalyst.
Sincerely,
Runell
STORY INFO:
Genre: contemporary
Tags: gay for you, friends to lovers, violence, bullying, college, homophobia
Content Warnings: brief description of a violent attack
Word Count: 8,622
Acknowledgements
I'd like to thank Carol Lynne and JM Dabney for proofing and editing for me and Allison Cassatta for making my beautiful cover, proofing and editing.
EVENT: Love's Landscapes
He Didn't Have To Be on Goodreads
ePub | Mobi | PDF
Review He Didn't Have To Be on Goodreads