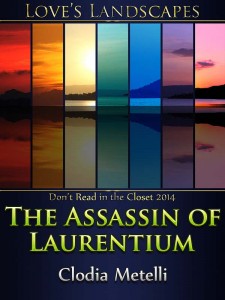 PHOTO DESCRIPTION:
Photo 1: The first photo shows a beautiful young man with long blond hair reclining in an opulent bedchamber. Naked but for a few folds of light fabric, he wears heavy gold jewellery and has striking scarlet eyes. Beside him are a bunch of grapes and a silver jug. 

Photo 2: The second picture shows a muscular man with shoulder-length dark hair reclining on a simple bed with only a blanket covering his loins.
STORY LETTER:
Dear Author,
I'm among the most sought-after male courtesans in the land (picture 1). With the body and skill of a dancer, I've been extensively trained in the art of seducing and pleasing men. But known only to a select few, I'm equally skilled in the art of espionage and assassination. You'd be surprised how easily powerful men spill secrets in the bedroom.
I like to think that my assignments have always been on the side of right, but it's still a soul-killing and solitary existence. I was given to the king's spymaster as a youth on the verge of manhood so my parents could feed and clothe my brothers and sisters. I left behind my best friend and first love who occupies my dreams even after all these years. I have yet to find that man who makes me feel as secure and safe.
I'm being given a new guard as I prepare to travel to my next assignment (picture 2). When he comes to my quarters, I'm struck by his physical presence but why does he seem so familiar?
Author requests: I love how rich and detailed the world building can be in fantasy― I'd like to see a little of that here. I'm always a sucker for (a long lost) childhood friends to lovers story― the more UST the better. Please give it a HEA or HFN ending but other than that, just run with it.
Sincerely,
Karl
STORY INFO:
Genre: fantasy
Tags: bodyguard, assassin, spy, courtesan, BDSM, slow burn/ust, friends to lovers, HFN
Word Count: 15,908
Acknowledgement
Many thanks to Miri Thompson for all her help and support as beta!
EVENT: Love's Landscapes
The Assassin of Laurentium on Goodreads
ePub | Mobi | PDF
Review The Assassin of Laurentium on Goodreads