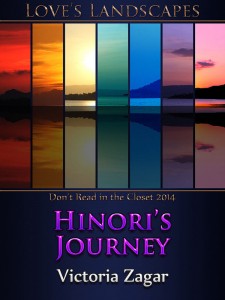 PHOTO DESCRIPTION:
An androgynous man stands with a curved blade in hand. He is clearly a warrior who treasures grace and beauty as much as the art of war.
See the photo here (NSFW)

STORY LETTER: 
Dear Author,

I am from a race that is both masculine and feminine in one corporeal form. Our life's journey determines which traits end up being dominant. Please tell my story and how I find my perfect partner. I ask that the setting be sci-fi/fantasy and that my MC is a warrior, anything else goes. 

Sincerely,
Venecia

STORY INFO:
Genre: fantasy, science fiction
Tags: hurt/comfort, prison/captivity, interspecies, coming of age, warrior, m-preg, masturbation, spacemen/alien
Content Warnings: violence, death of non-main characters
Word Count: 14,515

Thank You
Special thanks to Anna for fantastic editing. I really appreciate all the time event volunteers have put in to make Love's Landscapes happen. 

Author's Note
Hinori's tribe considers the use of gendered pronouns to be highly disrespectful. Therefore, Hinori uses singular they to refer to others, as is the custom in the Naha'i culture.
EVENT: Love's Landscapes
Hinori's Journey on Goodreads (NSFW)
ePub | Mobi | PDF
Review Hinori's Journey on Goodreads