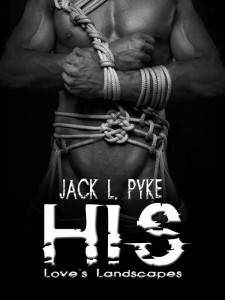 PHOTO DESCRIPTION:
Two men spoon together on a white mattress with blue swirls. One man (the Dom) wears nothing but black work boots as he shapes the other man. The Dom is caught kissing at the sub's neck whilst the sub holds onto the Dom's hand. The Dom looks fully sated; the sub, with eyes closed, shackles around his ankles, and a soft smile, looks fully claimed. Both look completely at ease. Tattoos circle the sub's navel.

See the photo here (NSFW)
STORY LETTER: 
Dear Author,

He offers such a pure, unfettered submission to the man strong enough to tame him; he's the best thing that ever happened to this powerful (read: spoiled) Dom. Still… even the best of Doms aren't infallible, and this one almost lost his beautiful boy. He straightened his head out quickly enough, but by then his boy wasn't quite so forgiving. If his stubborn sub is so damn resistant to reason, drastic measures are called for… right? What choice does a desperate Dom have but to resort to a tiny bit of kidnapping, and a wee touch of restraint and, well… I'll let the author decide what else it'll take to get them to their HEA.
Please no cheating or third parties, and a HEA is a must. Beyond that, author, push our boundaries as far as you dare. And yes, you may take that as a challenge. 

Sincerely,

Kim Alan

STORY INFO:
Genre: contemporary
Tags: BDSM, medical profession (psychiatric), visual arts, fetish, abduction, captivity, tattoos, reunited
Content Warnings: dubious consent, extreme BDSM
Word Count: 25,423

Dedication
To Kim Alan and her exceedingly tempting photo and Dear Author letter. It was stunning. And thanks as ever to my dark content editor, Vicki Howard, my BDSM consultant, Dilo Keith, and all the hardworking people at the Goodreads M/M Group who put this all together.
EVENT: Love's Landscapes
His on Goodreads (NSFW)
ePub | Mobi | PDF
Review His on Goodreads