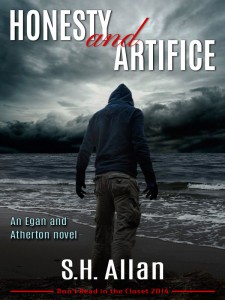 PHOTO DESCRIPTION:
A muscular, dark-haired man lies prone on a sandy beach, waves frothing and swirling around him. He is naked save for a tiny bikini or underwear that is barely clinging to the round globes of his backside. He also has on a small, dark, braided bracelet. If not for a mound of sand beneath his head, his face would be immersed in the water. He appears to be unconscious.
STORY LETTER:
Dear Author,

I found him in the edge of the surf one morning, on one of my many solitary treks down the beach. Naked, battered, unconscious― just another bit of discarded flotsam on the sand.
Who is he? How did he get here? Is he telling me the truth? Can I trust him at all? Can I help him― or can he help me? Or maybe we can even save each other…
(I'm very flexible on locale and genre. Ocean-front condo or beach resort or remote coastline or desert island or water-planet or whatever― any would be fine. Contemporary, historical, action/adventure, paranormal, flat-out fantasy― any would be fine. Please no BDSM between the MCs, although abuse or other trauma to either character by someone else, either before or during the story, would be fine but not required. Please no helpless-waif-needing-rescue― these are both strong men. A pronounced sense of isolation at the beginning would be a plus. Also, I enjoy first person POV― but it isn't a requirement. Thanks!)

Sincerely,

Plainbrownwrapper

STORY INFO:
Genre: action/suspense/adventure
Tags: first time, masturbation, past abuse, strong HFN, Alaska, series, isolation, boats
Content Warnings: allusions to childhood abuse
Word Count: 59,122
Dedication
To Robert Lavigne, an incredible artist and beautiful human being. He didn't hide his sexuality, despite the era during which he was in the public eye. I am honored to have met him.
Acknowledgements
Thank you to Allison and Trisha, who were truly there for me throughout the entire process. I literally couldn't have done it without you. To my sister Renee, and JJ my foster care case manager for getting me through a nightmare so that I could write again. I would never have finished if you hadn't kept me sane. To Deb, Kris, and Nan for being there at the end to save me from my own angst. I'm grateful to PlainBrownWrapper for creating this wonderful and open prompt, and for her support and understanding. Special thanks to the M/M Romance group's Don't Read in the Closet managers and editors that worked so hard to make Love's Landscapes a reality, and the rest of the group members who kept the excitement and momentum going.
EVENT: Love's Landscapes
Honesty and Artifice on Goodreads
ePub | Mobi | PDF
Review Honesty and Artifice on Goodreads