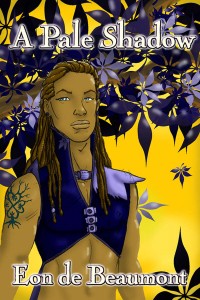 PHOTO DESCRIPTION:
The photo displays a three-quarter portrait of a young, black man with dreads and an arm tattoo.
STORY LETTER:
Dear Author,

This is our hero of the story, a young prince, in fact the youngest of his many brothers and sisters. He spends his days studying to be a diplomat and socialising with his fellow students, but mainly just being bored and hoping that something, anything would happen to alter the monotony of his life. 
Then the Royal Seer has a vision, a prophecy that will alter our hero's path and give him the adventure he craves.
Please, Dear Author, tell me what happens next to this young man, but most importantly tell me how he meets his true love.

Sincerely,

Verity
STORY INFO:
Genre: fantasy, young adult
Tags: fairytale/folklore, young adult characters, prince, thief, steampunk, sweet/no sex, magic users, adventure 
Word Count: 19,550
EVENT: Love's Landscapes
A Pale Shadow on Goodreads
ePub | Mobi | PDF
Review A Pale Shadow on Goodreads