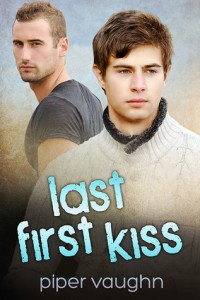 PHOTO DESCRIPTION:
Two young boys around age six or seven exchange a sweet, innocent kiss behind a caption that reads "No matter what age. No matter what gender. Love is love." The taller boy is gently cupping the smaller boy's chin while the smaller boy grips the strap of the taller boy's backpack.
STORY LETTER:
Dear Author,
This was their first and only kiss but Ryan has always loved Phillip. Ryan is out and proud now, and has known he was gay since this first kiss about 20 years ago. Phillip had seemingly forgotten this perfect moment which hurt Ryan a lot. Through the years the boys remained best friends but things are about to change… I would really like to know how these guys get their HEA.
Note: HEA, GFY, no cheating or BDSM
Sincerely,
Kavisha
STORY INFO:
Genre: contemporary
Tags: friends to lovers, gay for you, hurt/comfort, grief, abuse, first time
Content warnings: Mention of one past incident of child abuse (non-sexual)
Word count: 9,655
Last First Kiss on Goodreads
Downloads will be available soon here!
Review Last First Kiss on Goodreads