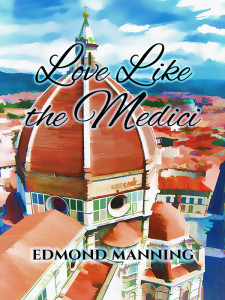 PHOTO DESCRIPTION:
Two men embrace, lying on a cobblestone street. Scattered around them on the ground are colored pencils, a sketchpad, and artist supplies. It appears one man jumped out of a red car and another hopped off his scooter to meet between vehicles and kiss. Both men are young and dark-haired.
STORY LETTER:
Dear Author,
I just graduated with my Computer Science degree. I love spending hours with a computer, but I realized it's sad that my biggest excitement and let down of last year were video games (the newest HALO, awesome, but Assassin' Creed: Unity had me drinking in despair). I'm excited about my new job, which pays really well so I'll be able to afford the newest tech toys and video games. Yup, geek and proud.
For a guy whose furthest travels include World of Warcraft, this is a big step. No tech (okay, limited tech, not going anywhere without my tricked out phone), no video games (I'm serious). Just me, Italy, art, culture, and cobblestone streets for 2 months. I figured I should make use of that Art History minor (for graphic design reasons… like dabbling in After Effects) ei miei orribili competenze italiane.
And not because I'm running from a boy. Who definitely didn't break my heart. As far as Italy is concerned, no boys.
Then I met the Italian boy born to bend and break rules. My rules. Specifically my no boys rule. An art student, so different from anyone I know. I refuse to fall for him, to have my heart broken again. But maybe… no. No boys. Especially not this boy. I'm just here for Italy, art, culture, and cobblestone streets.
Author, I'm fluff-allergic (some okay). Feel free to make it sexy or chaste. Change any details as long as it's an American geek in Italy, I'll be happy.
Sincerely,
Alicja
STORY INFO:
Genre: contemporary
Tags: Italy, gamer, Florence, art history, World of Warcraft, Medici, love, non-explicit, geeks/nerds, visual arts, Italian food, theft
Word Count: 30,473
Acknowledgements
Lovely people helped Enzo and Chris find each other. In no particular order, I would like to thank Ellen Burns (who powered up my World of Warcraft gaming knowledge), Dr. Edward Goldberg (who corrected my inaccuracies about modern Italian life), and Dr. Judith Testa who was not only a beta reader but her fantastic study: An Art Lover's Guide To Florence is a fun, fascinating read. I would also thank another friend who is a consistent beta reader and also so shy she doesn't like to be named. You know who you are. I thank you. Catherine Dair, artist extraordinaire, volunteered to create this cover for me absolutely free. I gave her the slightest bit of direction and she came up with something I thought absolutely gorgeous. Way to go, Catherine. And finally, thank you to Elisa Rolle who read my words in Italian and ensured I did not end up accidentally swearing in Spanish.
And hey, thanks to the awesome MM Romance Goodreads folks who put on the "Dear Author" event every year. I was recently describing to a non-author/reader friend all the intense volunteer work that goes into editing 200+ stories and preparing them for publication and this friend said, "I don't understand. Why would they do that?" I said, "I guess they love love. And sharing that with others." Pretty noble work in the world. Thanks to your team and also Alicja who created the intriguing story prompt
Dedication
Dedicated to Dr. Judith Testa, author of Roma Amor, and An Art Lover's Guide to Florence, aprofessoressa turned dear friend who nurtured my love for Italy. I think the world of you.
EVENT: Love is an Open Road
Love Like the Medici on Goodreads
ePub | Mobi | PDF
Review Love Like the Medici on Goodreads