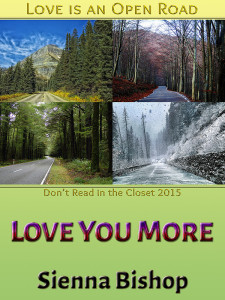 PHOTO DESCRIPTION:
Two men, short dark hair, no tattoos, shown from the waist up only. They appear to be naked and are clasped in a tight embrace. No faces are shown.
STORY LETTER:
Dear Author,
I've been hurt badly. In my first month away from home, enjoying newfound independence on my college campus, I was brutally raped by a stranger. I had barely begun my homosexual exploration, kissing and some hand jobs, with a few men who were also experimenting, when it happened 7 years ago. I have not been able to enjoy sexual relations with another man ever since. It has affected every one of my romantic relationships and I am sick and tired of being alone and afraid. I have decided to ask my best friend, a man I first met in junior high and trust with every part of my being, to help me overcome my fear of intimacy and sex. Yes, he is straight, but his love for me is strong and he suffers along with me when my fears arise. My hope is that he can help me, taking baby steps, enjoy the wonders of sex by touching me and loving me. I know that it will hurt when our intimate time together is over, but I'm not going to think about that right now. I need the overwhelming dread and fear of other men stricken from my mind before I can worry about anything else.
GFY, hurt/healing/comfort, no cheating, emotional sex as hot as fire and a HEA. I'd like to see these MCs well matched and versatile in the bedroom. I leave everything else up to up, my dearest author
Sincerely,
Gigi
STORY INFO:
Genre: contemporary
Tags: friends to lovers, hurt/comfort, first time, gay for you, college, military
Content Warnings: non-violent rape description after the fact
Word Count: 51,371
Author's Note
Gigi's lovely prompt called for Deacon to tell this story, but he wasn't feeling talkative and Tucker was, so that's how it ended up. Also, because Tucker isn't exactly a get-to-the-point kind of guy, the story starts with the beginning of their friendship, several years before the action in the prompt. I tweaked the timeline a bit to fit better with their lives. I hope you enjoy their story.
Acknowledgements
I'd like to offer a big thanks to my betas, Goodreads author Anna Birmingham and new member Teri, both friends from my former life as a fanfic addict. They were wonderful at keeping me on track and focused when I really wanted to throw my laptop under a bus. Also, mega thanks to Jul and Debbie for such amazing editing work. They blew me away with their professionalism and attention to detail. Big hands of applause and air kisses to all my wonderful helpers!!
EVENT: Love is an Open Road
Love You More on Goodreads
ePub | Mobi | PDF
Review Love You More on Goodreads